---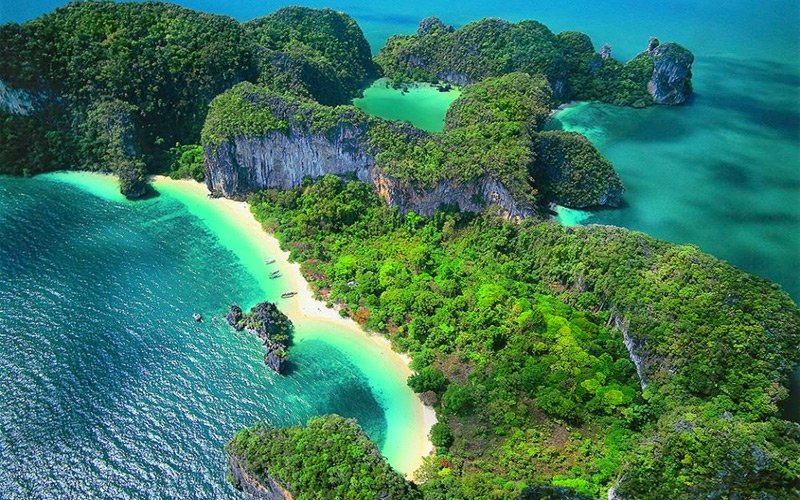 Hong Island Tour : Exceptionally beautiful island and Spectacular Lagoon.
Hong island – by boat right into the very heart of the Island to Hong Island's lagoon, an amazing lake with tree covered cliffs climbing up all around. Then to Hong Island Bay, beautiful beach with white sand, perfect for swimming snorkeling.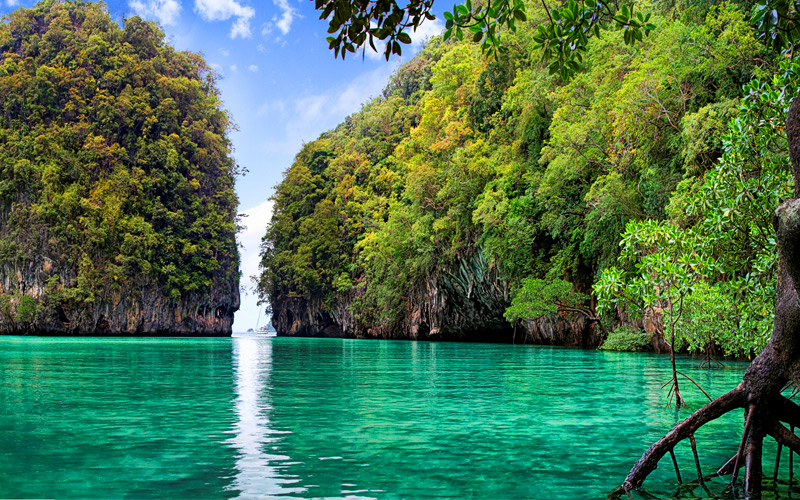 Lading island – traditionally this was a place the locals came to collect the valuable vital ingredient for bird's nest soup. Now, its one of Krabi's most amazing sights. There is a small beach but the stop here is more about the amazing rock formations and caves which you can see here.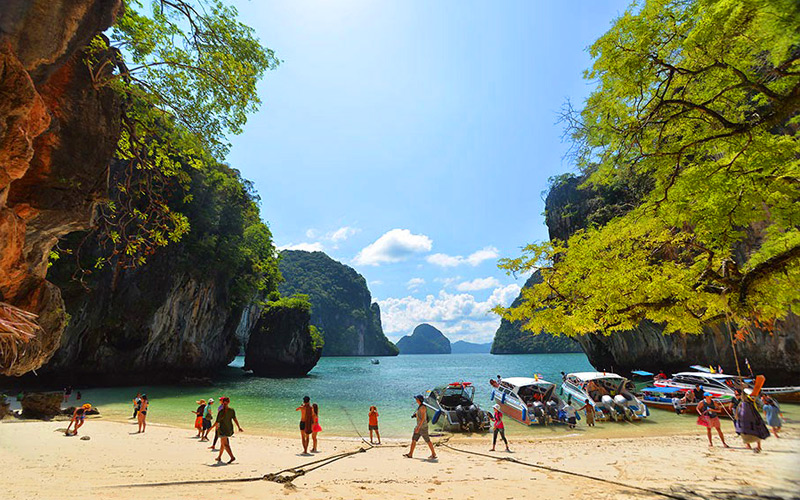 Pakbia island – a labyrinth of caves eroded into the cliffs by the sea. There is a small but very nice beach on Pakbia, on one side of the island there is a rocky section in the beach shallows which is another great place for snorkelling and getting to see some fish. On the side with the boats parking, there is a longish beach with trees along the edge. Here is a great palce to just lie back and relax. If you have kids its also a good place just for playing in the water.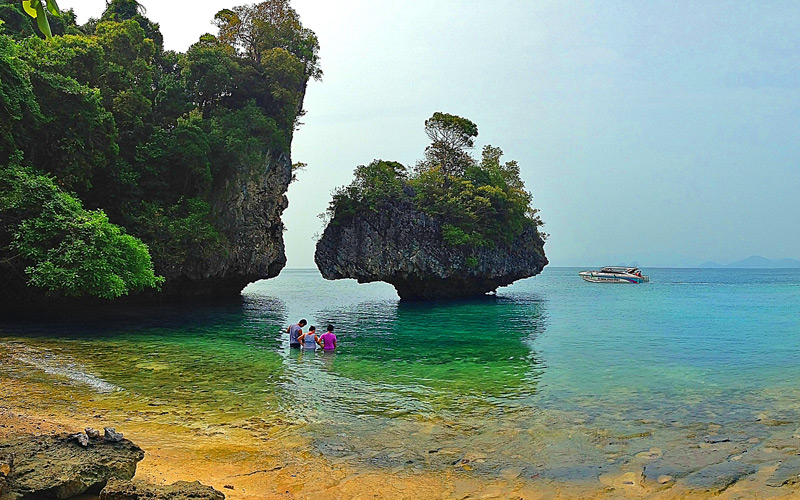 *** Speedboat Option visits Hong Island, Hong Island Lagoon, Pakbia Island and Lading Island.
?Daeng Island – This Island is famous for its coral reef which, at low tide, can be seen clearly from the surface. This Island is about half way between Aonang and Hong island. The Island does not have a beach, but as long as the waves are not too big, its a great place for snorkelling off the boat.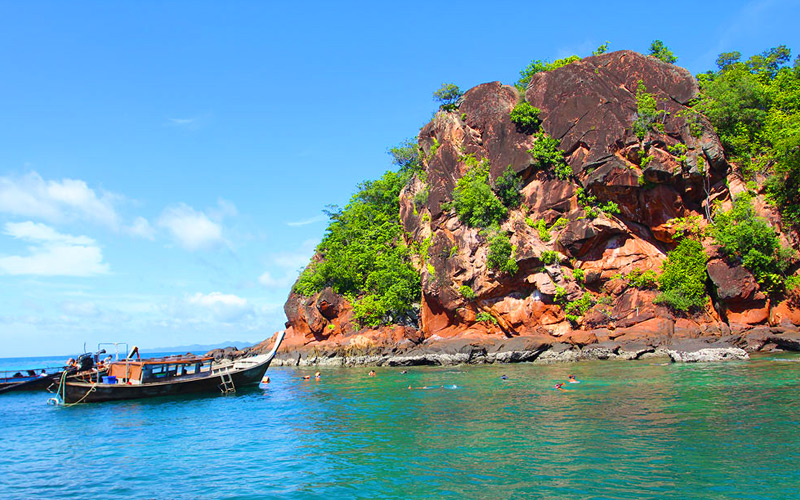 *** Longtail Option visits Hong Island, Hong Island Lagoon, Daeng Island and Lading Island.
---
Krabi Hong Island Tour programs :
– 8.30-8.45 am. : Pick you up from your hotel in Ao nang or Krabi town.
– Transfer to ?Hong Island Group? Arrive in Hong Island, your guide demonstrates the best way to snorkel and explains where the best place for snorkelling. Guided sightseeing to see the exotic highlight of Hong Island, including the ?Hong's Lagoon?? a fantastic sea lake with towering limestone cliffs on all sides.
Enjoy picnic lunch on the beach.
– After transfer to "Lading Island" ( Paradise Island ) for sightseeing and snorkelling to discover wonderful underwater stones.
– Transfer to "Pakbia Island" and "Rai Island", take a walk on smooth sand beach, relaxing and swimming. It is a small Island
– 4.00 pm. Return to Ao nang Beach and Transfer to your hotel.
---
Tour by speedboat price :
Adult : 1,800 1,700 Baht/Person
Child : 1,200 1,100 Baht/Person
Tour by Longtail boat price :
Adult : 1,400 1,200 Baht/Person
Child : 1,200 1,000 Baht/Person
---
Tour included :
– Round trip Hotel Transfer (for hotels in Ao Nang, Nopparat Thara & Krabi town area)
– Accident Insurance
– Mask & Snorkel, Life Jacket
– First-aid Kit
– Drinking water, Fruit, Lunch
– English Speaking Guide.
Notice :
* The trip is subject to change depend on the local weather. For most your Satisfaction.
* Free transfer service for hotel in Ao nang beach, Krabi town & Nopparat Thara beach only.
* The booking is requested for deposit 50% of the total price and pay for the rest of balance by cash on tour.
* New Low from New Government for Island Trip. Have to Pay National Park Entrance Fee to authorities when you reach there by yourself.
– For Adult 400 Baht/Person
– For children (4-12 Years) 200 Baht/Person
***Effective after 18 June 2015***
?What to bring :
Sunscreen, Sunglasses, Camera, Hat, Towels, Swimming suit and some budget money.
Comments
comments