Hong island : Krabi is one of the provinces in Thailand that has got many islands. Part of the National Marine Park, Hong Island ( Koh Hong ) is considered one of the most beautiful islands in Krabi. A lot of tourist travel to Krabi seeking to visit Hong island chain, the group of islands that are well known in being one of the most peaceful and beautiful. It is good for those who love sunbathe on a white sand beach far from the busy activities of the crowded town. You can enjoy kayaking in Hong lagoon that are provided by many tour companies.
Book !! for Hong Island Krabi tour package >> Email : krabiviewtour@gmail.com | Whatsapp : 66894704772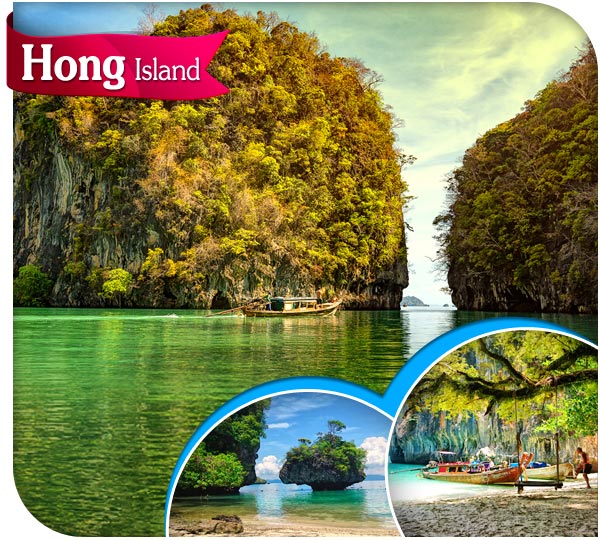 Exceptionally beautiful island and Spectacular Lagoon. Hong island, by boat right into the very heart of the Island to Hong's lagoon, an amazing lake with tree covered cliffs climbing up all around. Then to Hong Island Bay, beautiful beach with white sand.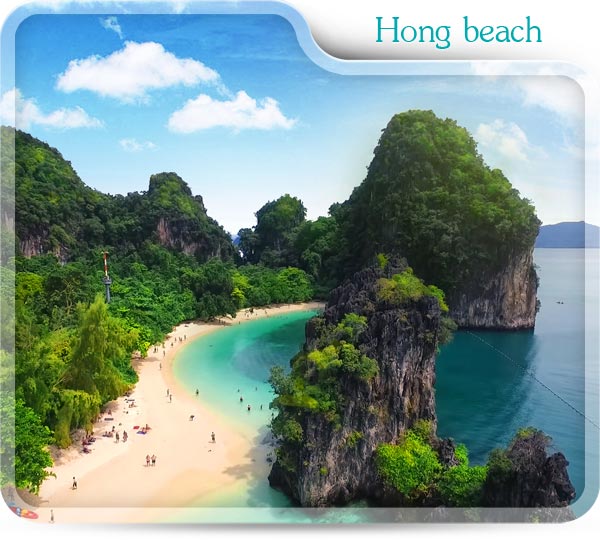 Hong island is divided into 2 parts which are Hong island beach and Hong isalnd's lagoon. Hong beach is wide and good for sunbathe. Part of it is also shady. Suitable for sitting and relaxing while enjoying the beach view and perfect for swimming snorkeling.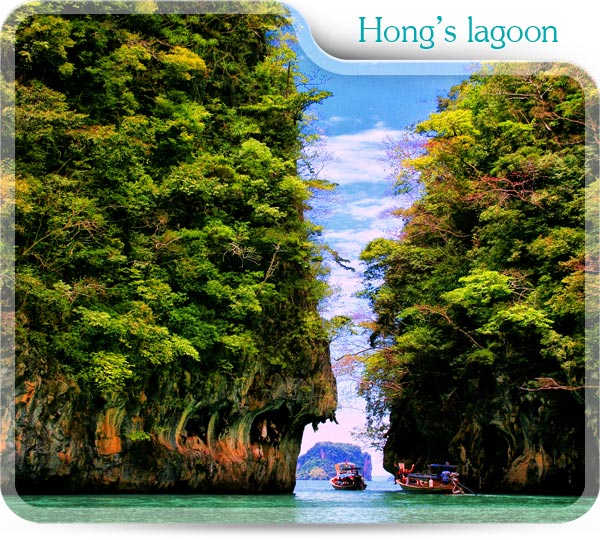 Hong's lagoon is where the island's name comes from. Hong in Thai means "room". The lagoon looks like a huge hall in the middle of the sea covered by walls of steep rocky hills of the island. Through a dramatic cliff passage is the only one way to access the lagoon. It is so named Hong, or room.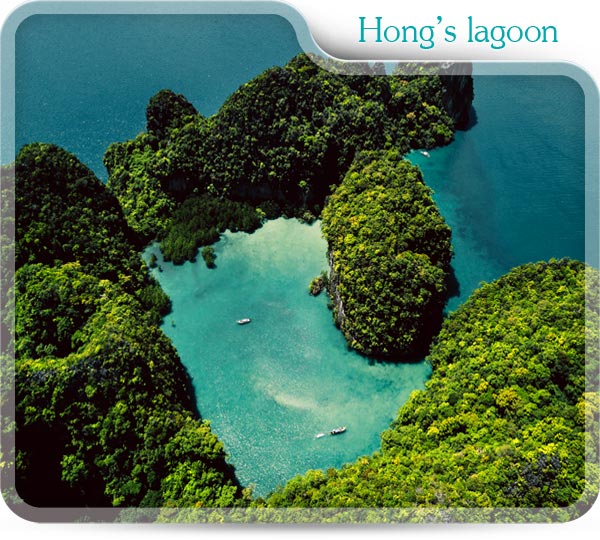 Ko Hong lagoon is best accessed by kayak at low tide to take pleasure in its shallow emerald green water, only a few inches deep. Long tail boat can only enter around mid-tide when the water is around chest level. To get the best pictures, the dramatic cliff passage should be photographed on your way out.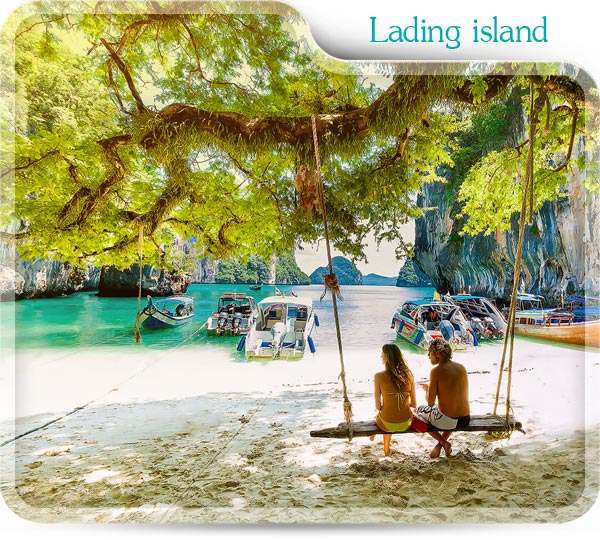 This is a small island that has got bird's nest concession. (We are unable to visit the martin nesting cave because of the ownership of private companies.) We will bring you to view the quiet and peaceful atmosphere on this island. Krabi people call this island "Koh Lading". But foreign tourist call it Paradise island because Lading is too difficult to pronounce and because of its peaceful environment as in the paradise, the tourist then call it Paradise island.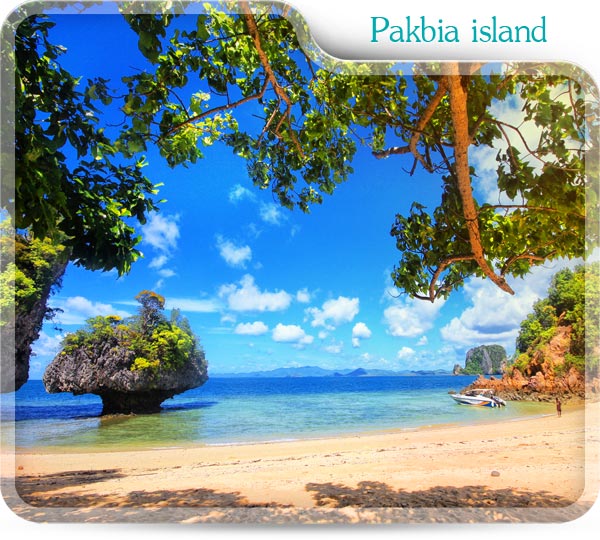 The Pakbia Island is a small island in Hong island chain. The island is formed by limestone. With it's countless rocky outcrops. So, it makes the island looks like a garden full of mushrooms emerge from the sea surface which can be seen clearly during the low tide. Furthermore, further north of Hong island, both Pakbia island and Rai island have impressive sandbars revealed at low tide which connects the two islands.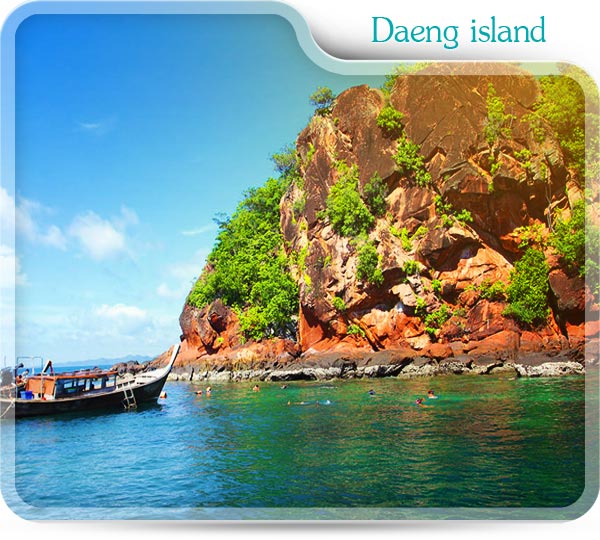 Red island or Daeng island is named because of its color that looks like a pile of brown-red stones in the middle of the sea. It is located between Lading island and Hong island. Daeng island has got a clear water full of all kinds of sea creatures which makes it one of the best shallow diving spots.
Hong island tour programs
08.30 am. >> Pick you up from your hotel in Ao nang or Krabi town.
09.00 am. >> Transfer to Hong Island Group Arrive in Hong Island, your guide demonstrates the best way to snorkel and explains where the best place for snorkelling. Guided sightseeing to see the exotic highlight of Hong Island, including the Hong's Lagoon a fantastic sea lake with towering limestone cliffs on all sides.
12.00 am. >> Enjoy picnic lunch on the beach.
01.00 am. >> After transfer to "Lading Island" ( Paradise Island ) for sightseeing and snorkelling to discover wonderful underwater stones.
01.30 pm. >> Transfer to "Pakbia Island" and "Rai Island", take a walk on smooth sand beach, relaxing and swimming. It is a small Island
02.00 pm. >> Return to Ao nang Beach and Transfer to your hotel.
Hong island tour package price
Tour by speedboat price :
Adult : 1,800 1,700 Baht/Person
Child : 1,200 1,100 Baht/Person
Tour by Longtail boat price :
Adult : 1,400 1,200 Baht/Person
Child : 1,200 1,000 Baht/Person
– Round trip Hotel Transfer (for hotels in Ao Nang, Nopparat Thara & Krabi town area)
– Accident Insurance
– Mask & Snorkel, Life Jacket
– First-aid Kit
– Drinking water, Fruit, Lunch
– English Speaking Guide.
Notice :
* The trip is subject to change depend on the local weather. For most your Satisfaction.
* Free transfer service for hotel in Ao nang beach, Krabi town & Nopparat Thara beach only.
* The booking is requested for deposit 50% of the total price and pay for the rest of balance by cash on tour.
* New Low from New Government for Island Trip. Have to Pay National Park Entrance Fee to authorities when you reach there by yourself.
– For Adult 400 Baht/Person
– For children (4-12 Years) 200 Baht/Person
***Effective after 18 June 2015***
What to bring :
Sunscreen, Sunglasses, Camera, Hat, Towels, Swimming suit and some budget money